Ongoing Performance | Fri, Sat, Sun: Bulletin reading at 14:45 De Brakke Grond | Foyer
In a prominent place of the conference area, a mailbox will be mounted. Posted notices around the conference venue point to and explain what it is for. The conference participants are invited to formulate news, bulletins, opinions, adverts and throw these into the letter box. At fixed times (three or four times a day), entries will be drawn from the box and proclaimed in three languages (Dutch, English, German). There is no censorship, only the scope or number of bulletins is limited.


Conference delegates are invited to drop news bulletins in the box. All topics, whether internal or external, will be read as long as they are neither offensive nor degrading. This could include, for example, news and commentaries on events held at the conference, personal messages to present and absent persons, advertisements for offers and inquiries, but also reports of travel difficulties, or comments on food and architecture.


Received messages will be briefly reviewed before being read out, and distributed to the callers (one language each), and an order will be determined. Then they will be read out from a low pedestal in a loud, steady voice. Each reading concludes with a short weather report for a specific area. The experiment is how the participants deal with an analogue speech platform. Whether the participants use it and if so, how? The question is how the participants present themselves in this performative medium. Whether they use this opportunity for interventions, whether they institutionalize it.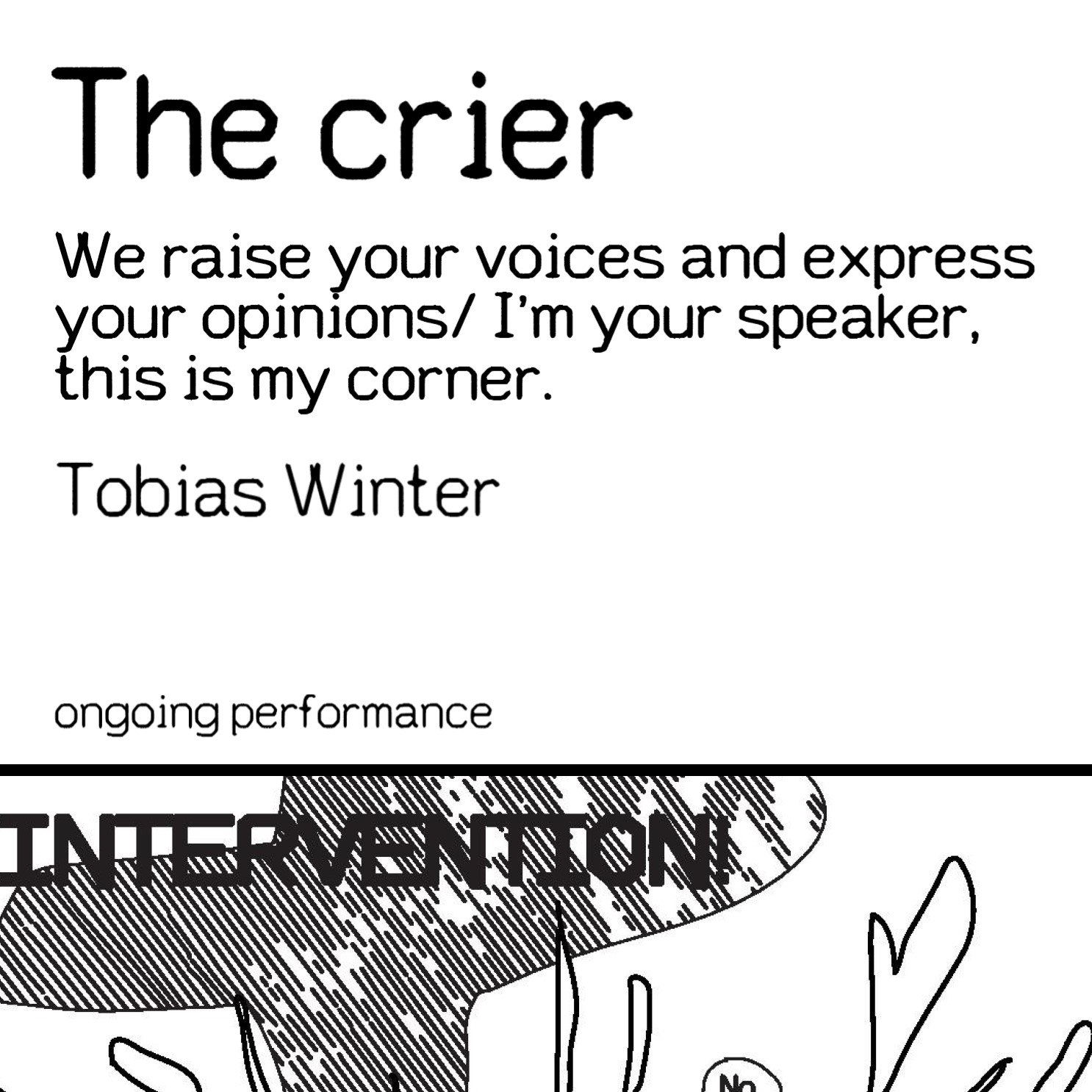 TOBIAS WINTER (born in 1958) is a freelance director and choreographer in Berlin and Frankfurt in theater and opera. He writes plays and libretti and teaches acting. Since 1990 he has staged several dance and music performances, including Stadt Land Fluss and out of area, with the nodancerscompany, founded in 1995, the Johannespassion by J.S. Bach, Song of Songs for Istanbul 2010, where he also gave workshops on applied dance dramaturgy at the Mimar Sinan University. His opera productions included Acteon by Charpentier, L'Allegro ... by Händel and Dido & Aeneas by Purcell. He developed the form of scenic implants that interweave theater and opera. In 2014, he founded theswarmcompany for further development and research about theater on an international level. He has written and staged for this purpose among other plays 19 Tage Gezipark, Romeos & Julias, antigone - 7 Artikel des Grundgesetz, the soil, irreversible and Das Rauschen.