Aktie Tomaat / the 'Tomato Incident'


On October 9 1969, students of Amsterdam theatre Academy threw tomatoes on the stage during the final applause of a performance of Shakespeare's "The Tempest". This incident went down in history as the straw that broke the camel's back. All throughout the '60s, the then existing theatre companies faced grinding criticism: their repertoire was outdated, elitist, bourgeois. The productions missed social relevance, and did not engage sufficiently with the rapidly changing world. The system of financing failed to produce theatre that could reach a broader public. All these strands of criticism had been going on for a while, but apparently, it would take a tomato-throw to unify this pool of anger, dismay and desire for change, and give it a name and a projected goal.

The Tomato Incident sounded the beginning of a profound change in the Dutch theatre and performance arts: more room for experiment, new forms, new companies. To what extent the incident itself caused these changes is a matter of historical debate - the ideas of the tomato-throwers were perhaps too radical and the attempts to realize direct public participation in the policy of theatre companies failed. Besides, in the context of the '60s, the change might have been inevitable, with or without the tomatoes.

The Performance Philosophy biennial has taken up the Tomato Incident as a symbolic gesture (beyond the anecdote and the historical moment) and put 'Intervention' as one of the central themes of the programme. We zoom in on the moment of intervention itself, its mechanisms, its hopes for change, and the environment or context it seeks to rupture…How does intervention work? Doesn't intervention anno 2019 look, sound and work differently than it did 50 years ago? During the biennial, along with many conference contributors, we will explore the idea of intervention as intoxication…A way of intervening by altered states maybe, or spreading like a virus instead of hitting like a tomato, even by means of hacking…?

Furthermore, several specific initiatives are developed in the context of the biennial:

Thursday March 14, 2019 | 13:45 - 15:15
University Library | Doelenzaal

Aanmelden is niet nodig. Iedereen is welkom!
Luistersessie en -installatie zijn onderdeel van de Performance Philosophy Biennial, die Tomaat als interventie beschouwd, en is georganiseerd in samenwerking met Bijzondere Collecties/Theaterinstituut Nederland.
Op meerdere momenten in 2019 zal worden stilgestaan bij het jubileum van Aktie Tomaat onder het mom 50 Jaar Tomaat, georganiseerd door de Redactie Tomaat.
Aktie Tomaat - luistersessie


Op 9 oktober 1969 gooiden studenten van de Amsterdamse Toneelschool tijdens het slotapplaus van Shakespeare's De Storm van de Nederlandse Comedie, tomaten naar het toneel. Op 1 november 1969 organiseerde de Nederlandse Comedie in de Grote Zaal van de Stadsschouwburg Amsterdam een openbare discussie. Iedereen met een mening konzijn zegje doen over de problematiek in de theaterwereld. Tweeënhalf uur lang probeerden de directie van de Nederlandse Comedie en de tomaatgooiers hunstandpunten toe te lichten, te verdedigen en te contextualiseren.

Op 14 maart 2019 nodigen wij jullie uit om aan te schuiven en mee te luisteren naar een deel van de geluidsopname die is gemaakt tijdens deze discussie.

'Aktie Tomaat' is voor vrijwel iedereen in het Nederlandse theaterlandschap een begrip. In ons collectieve geheugen heeft deze interventie het toneelbestel totaal veranderd. Er kwam geld voor vernieuwing, 'maatschappelijke relevantie' werd een criterium voor het verlenen van subsidies en nieuwe gezelschappen werden opgericht (Maatschappij Discordia, Baal, Sater, De Appel, Onafhankelijk Toneel). Ook de vaste repertoiregezelschappen gingen experimenteren met nieuwe theatervormen - of gingen ten onder, zoals de Nederlandse Comedie en het Nieuw Rotterdams Toneel.

Los van de mythe waartoe Aktie Tomaat verworden is: wat werd er nu daadwerkelijk gezegd? Wat horen wij als luisteraars van nu? Wat wordt het meest benadrukt, ofwaar 'horen' wij de nadruk? Kiezen wij kanten? Vallen er eigenlijk kanten te kiezen bij dergelijke uiteenlopende statements? Wat wij horen — is dat een weerslag van het beeld dat we eerder al vormden bij Tomaat? Is het wellicht een weerslag van onzehuidige tijd en individuele situaties?

Wij luisteren en praten na. En nemen deze indrukken wederom op. Voor in 2069.

Exhibition tours:
Friday March 15, 2019 | 12:20 - 13:15
Saturday March 16, 2019 | 13:00 - 13:55 Sunday March 17, 2019 | 13:00 - 13:55 Exhibition is open untill April 1, 2019
Bijzondere Collecties
Display historical material - Aktie Tomaat backgrounds exhibition and tour


At Bijzondere Collecties, we display a small selection of the historical material from the time of tomato, which is accessible until the 1st of April 2019.

Also, we present an audio-installation with the material from a meeting organized shortly after the performance where the tomato-incident took place, in which the members of the thatre company, the students who threw tomatoes, and many others, speak out their mind about the then-current situation in the performing arts. The audio material is in Dutch.

During the biennial, we offer a guided tour to the exhibition (Friday, Saturday and Sunday during lunchtime).

This installation is made possible in cooperation with: Bijzondere Collecties/Theaterinstituut Nederland.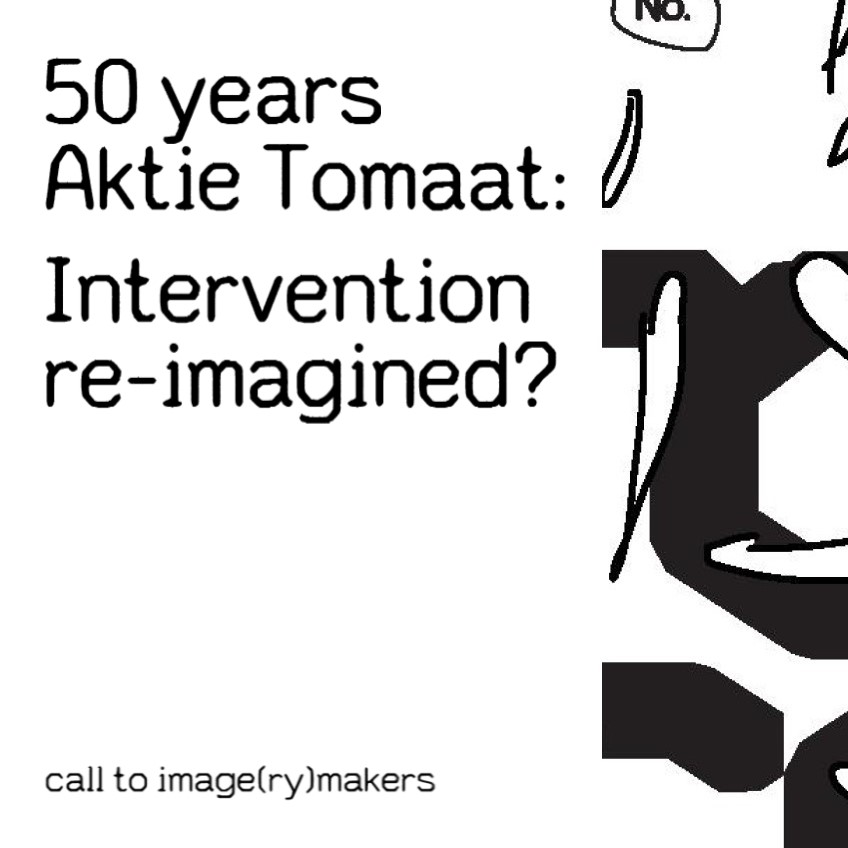 CALL TO IMAGE(RY)MAKERS:Intervention Re-imagined?

Pamphlets with bold slogans, whistles and public outcries, smoke-bombs, tomatoes, whatever interference of the public or social order with the hope of changing the status-quo, or at least in order to temporarily disable it… many of the first associations with interventions are informed by a protest culture of the 1960's.
We ask: What do the tomatoes look like in 2019? What are our symbolic gestures of protest and interference? What are the ways to shake things up, instigate change, to attack the old and demand the new?
In collaboration with the Dutch weekly
De Groene Amsterdammer
, we call you to show us the 'tomatoes' of 2019. Send us your illustrations/drawings/photographs and they might be selected to be published in
De Groene Amsterdammer
& exposed at the
Intervention! Intoxication?
- biennial.
Deadline: March 11, 2019.
Send in via email (PDF or JPG):
ivana@performancephilosophy-amsterdam.nl